DENTAL ASSISTING RECRUITMENT PROJECT
DENTAL ASSISTING RECRUITMENT PROJECT
DENTAL ASSISTING RECRUITMENT PROJECT
DENTAL ASSISTING RECRUITMENT PROJECT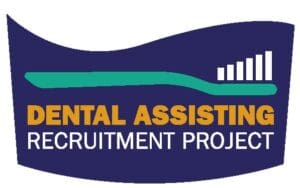 The Minnesota Oral Health Coalition, the Early Childhood Dental Network, and the Minnesota Dental Association worked in partnership to develop the Dental Assistant Recruitment Project.
The project was only made possibly with technical assistance from Central Lakes Community College Dental Assisting Program and Minnesota State Community and Technical College, Moorhead, Dental Assisting Program.
We will be hosting an Infomar on the project April 15, 2021 at noon.  More information will be coming soon. Please email us to be put on the announcement list.
Materials are available by clicking the links below.  If you would like your logo added to these materials, please email us.
Dental Assisting Recruitment Power Point Presentation
Minnesota Dental Assisting Map and Schools 03 2021